About Us
The Dynasty Century Palace Restaurant is an elegant fine-dining restaurant established in 2001, renowned for providing the ultimate Cantonese dining experience. Nestled in the heart of downtown Edmonton, the ornate structure seats 600 and hosts banquets, weddings, and personal dinner retreats, making it a favourite for visiting celebrities and dignitaries. Located on the second floor of the Pacific Rim Mall, a handsomely restored heritage site, the Dynasty Century Place Restaurant is a study in opulence. A fusion of traditional Chinese furnishings and smart modern décor such as the painting inside the lobby. For special event requested, we provide three VIP rooms, awaits small parties and private groups. In the kitchen, a team of first-rate chefs trained in Hong Kong prepares an enticing array of innovative, exotic dishes, including such delicacies as shark's fin soup, roast Peking duck and sautéed lobster and crab, and our famous "stuffed chicken wing". Specializing in fresh-daily live seafood stored in built-in water tanks, guests may select from a menu that includes the best lobster, crab, and prawns the oceans have to offer. Whether you are looking for a light lunch of award-winning dim sum, quiet cocktails, a relaxing dinner, an elegant party or even a full wedding banquet, our attentive staff will make your visit a memorable one. We are open seven days a week and take out, dine in are all available. The Dynasty Century Palace Restaurant is a tribute to the tradition of one of the world's great cuisines. Be sure to try our Cantonese Chow Mein, Honey Garlic Ribs, or Shrimp with Black Bean Sauce.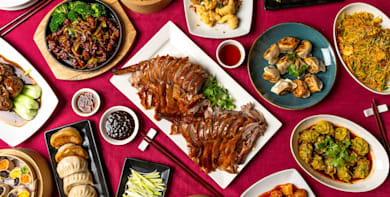 Reviews
Aaron
"absolutely amazing"
2022-03-19
Contact Us
Find Us
9700 105 Avenue, Edmonton, AB, Canada, Edmonton, T5H 4J1
Opening Hours
Monday
11:00 AM - 7:00 PM
Wednesday
11:00 AM - 5:00 PM
Thursday
11:00 AM - 5:00 PM
Friday
11:00 AM - 5:00 PM
Saturday
11:00 AM - 5:00 PM
Sunday
11:00 AM - 7:00 PM
Please note, delivery times may vary.
We deliver to
T5A, T5B, T5C, T5E, T5G, T5H, T5J, T5K, T5L, T5M, T5N, T5P, T5R, T5S, T5W, T5X, T5Y, T5Z, T6A, T6B, T6C, T6E, T6G, T6H, T6J, T6P, T6V, T8H